If you are looking for RELEASE NOTES (features list) – click here
Note: PRO = paid edition of RightTool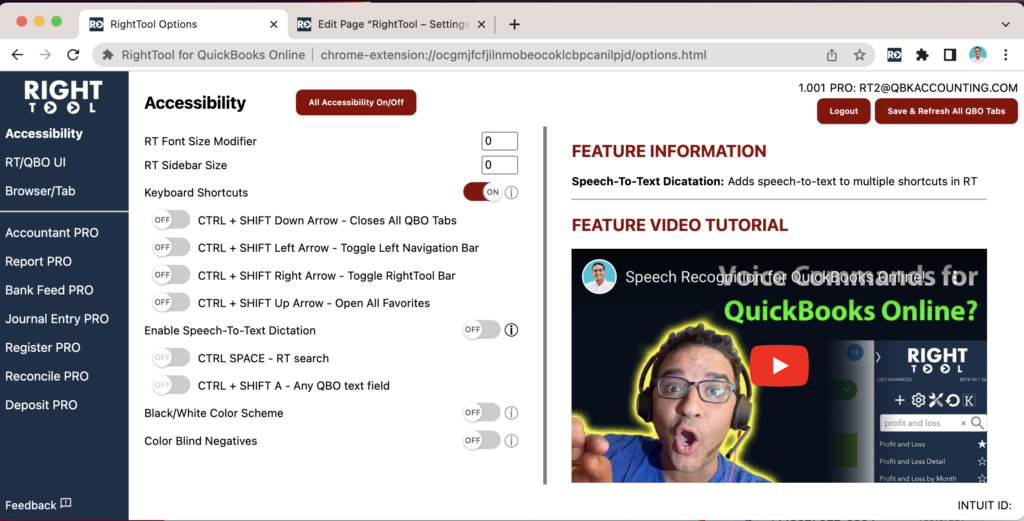 Default Features (no toggle):
Collapsible Right Navigation bar in Navy Blue, set to feel like the old QuickBooks Desktop right navigation bar
Quick access Icons: +New, Settings, and Hard Refresh (clear cache and cookies)
Database of ALL SHORTCUTS and ALL REPORTS that can be accessible via direct URLS. Shortcuts/Reports contain a period "." at the end when if it requires QBO Essential or higher to be able to access, contain two periods ".." at the end for QBO Plus and higher, and three period "…" at the end when QBO Advanced and higher. Shortcuts with four period "…." at the end is for QBO Accountants only
RT Universal search: Enables the search bar inside RightTool to do quick amount or text searches inside QBO. Or to search within RightTool's list of Shortcuts and Reports
FAVORITES section: allows you to add any of favorite from the ALL SHORTCUTS/REPORTS menus and even custom bookmarks to quickly access from within RightTools. Also an OPEN ALL button that allows you to open all the favorites in this screen at the same time. Lastly whenever keyboard shortcuts are turned on, CTRL+ALT+NUMBER (1-0) quickly accesses those top 10 shortcuts on that screen. Favorites can also be rearranged via click and drag
Right clicking on any amount inside a report will show the option to open in new tab, new window, incognito window, etc… Without RightTool this is not possible in reports
Inside RightTool you will see the QBO version: Clicking your QBO version now opens company settings; and the RightTool release version: clicking the release version opens the release notes webpage.
Automatically put the cursor in the verification code box, to save a click; when doing 2-factor authentication lo login.
When you click on Mark as Paid from within a Bill, the memo of that bill copies to the Bill Payment. It does

not

work if you start from the Pay Bills window. (Setting can actually be turned off via semi-hidden Options menu!)
Accessibility – ALL Editions
Font Size Modifier: makes the fonts in RightTool bigger or smaller by a factor of +1 to +5 or -1 or -5. Default setting is 0 (Feels like 14pt Font)
RT Sidebar Modifier: allows you to increase an decrease the width of the RightTools left navigation bar while expanded
Enable Keyboard Shortcuts: RightTool ads a myriad of Keyboard shortcuts that significantly enhances the experience of QBO, complete list here
Enable Speech to Text Dictation: allows you to speak/dictate into RT search-bar and into textfields inside QBO
Monochrome Color Scheme: turn must RightTool buttons and links inside QBO's UI to black instead of red.
Color Blind Negatives:Turns the color of "Negative Reds" in reports into blue.
QBO User Experience Settings – ALL Editions
RT Defaults to Favorites: When this feature is disabled, RightTools starts with the MANAGE TABS section open whenever a new tab is created, if you turn it on it will default to FAVORITES
Auto-close Left Nav Bar: every time a new tab or screen is changed in QBO, RT will force close the Left Navigation Bar, and you will see the animation
Auto Close Banking/COA Popups: gets rid of the welcome screen and in-screen popups that show up in the Banking, Chart of Accounts, and Bank Reconciliation Screens
Enhanced Transaction Esc: fixes the issue where ESC doesn't exit out of some transaction windows
Void Memo Automation: automatically adds the original amount (prior to doing a void) into the memo when voiding transactions for future preferences. Keyboard Shortcut: CTRL SHIFT V
COA Jump to Location: adds a button to allow the user to get back to the account (scrolls to it) whenever editing an account in the chart of account where it resets back to the top
Invoice/Sales Receipt Line Lock: adds a button that allows user to "lock" the description, qty, and amount of a line item while they change the item (product/service) and not lose the info that is there
Extended Print Options: Adds Printing capabilities to Journal Entries and Bills. Keyboard Shortcut: CTRL SHIFT P
Export Journal Entry to CSV: exports the current journal entry in CSV, cannot be "imported" back in
A "Back to Bank" link added into the Check Register screen so when you are in bank feeds and click on the register link to maybe add something, you can go back to Bank Feeds instead of Chart of Accounts
Include Deposits in Customer Detail: Automatically chooses the 'All Transactions Plus Deposits' filter while looking at customer transactions – gives you more data to look at.
Restrict Transfers in Bank Feed: this will automatically change transactions that were selected as a "transfer" by default into a "categorized" transaction. Also, when this feature is turned on, it will remove the option for the user to be able to create a transfer transaction. This will force the user to use a Categorize option or a Match.
Tab Management Settings – ALL Editions
Enable MANAGE TABS: this enables the MANAGE TABS section in the RightTool right navigation bar which tracks all the open tabs related to QBO and can allow you to quickly switch between tabs and/or close them all in batch

RT Defaults to Manage Tabs: instead of defaulting to FAVORITES which is the default behavior

RT Shortcuts Open New Tab: When this feature is enabled, RightTools starts creates all new pages that were clicked from the RT navigation bar OR via a Keyboard shortcut. Turning it off, keeps everything within the same tab (as normal)
Close Tabs on Company Change: when this is turned on, whenever you change from one company file to another, RightTool will close all the open tabs to declutter your tabs on the top and prevent the dreaded "gray screen"
Refresh Tabs on Company Change: when this is turned on, RightTool will send a refresh signal to all tabs when the company is switching to also "prevent the dreaded gray screen"
Audit Loop Escape: Whenever you open an audit history to a transaction (such as an invoice) QBO has the problem that when you close that Audit log screen it does not take you back to the transaction you where looking at. This feature fixes that issue
Match Tab Names: when is is turned on, RightTool will rename the tabs on top of the browser to whatever are they are inside QBO instead of just saying "QuickBooks" and you having to click like 3 tabs to get to where you want to be
Reports Enhanced Drill-down: Modifies reports so that if you click in any number to drill down from a Summary Report into a Detail report or from a detail report to a transaction, so that it opens those in new tabs. auto closes when a transaction is opened from a report drill down or from the deposit window, so when user clicks on X or Save and close, the tab auto closes.

Bank Feeds PRO
Collapse/Expand Grouped Columns Button: adds a "Close/Open Groups" link that allows you to collapse and expand groups whenever the Turn on Groupings option is turned on inside Bank Feeds (Transactions) screen.
Bank Feeds Descriptions: Adds the original Bank Text in addition to the Bank Description (Intuit's cleanup version of the Payee which is often correct but sometimes very incorrect!)
Larger Account/Memo Boxes: doubles the width of accounts in Bank Feeds Screen and also makes the Memo box expandable so you can read the long and multi-line memo boxes that come from the bank sometimes
Untransfer Button: adds anew button to bank feeds; "Untransfer" batches all the existing transactions displayed in the bank feeds current page to CATEGORIZE instead of transfer (with exception of paired transactions)
New Transactions Button: adds a +Expense Button (that contains a +Check, +Deposit,+Sales Receipt, and +Journal Entry sub-options) that allows you to quickly create a missing transaction being created from within the bank reconciliation screen and opens on same TAB. Menu is also accessible via CTRL SHIFT E
Bonus: it automatically selects contextually the account you were in for all transactions except Journal Entries
Display Text Under Bank Feed Cards: adds right under the bank/credit card account boxes any information inside (parenthesis) in the chart of account name of those accounts; in an attempt to easily identify account numbers at the end of a long account name that is not visible in the box
Auto-Update Bank Feeds
Accountant PRO
Enable Company Switch: this enables the COMPANY SWITCH SECTION in the RightTool navigation bar that keeps a list of your save company files so you can quickly switch between customers
Enable Group Favorites: ability to create folders (groups) for custom favorites that can be launched all at the same time with a single button, these are searchable as as well
Reconciled Transaction Indicator

Reports PRO
Hide Sub-Rows Button: adds a link labeled as ">< Rows" that collapses and expands any data in the rows that has parent/sub relationships like Accounts. Also world with expanding/collapsing report groups in the Custom Reports Screen
Hide Sub-Columns Button: adds a link labeled as ">< Columns" that collapses and expands any Classes, Locations, Customers:Projects, and Products/Services that have sub-categories under it, also makes those headers RED so you know they were collapsed
Export Summary Reports to CSV: Allows you to export a report (even with collapsed rows/columns) into a CSV File (no formatting, as compared to the built-in QBO export to Excel)
Report Presets Button: adds a PRESET button to all "/reportsv2" URLs to modify the report settings. Keyboard Shortcut: CTRL SHIFT E

Negatives (red): modify the report formatting so that negative amounts are both RED and in Parenthesis
Non-Zero Rows and Columns: modify the report formatting to load with non-zero rows and columns hidden (no zero or blank rows/columns)
Total Sort Descending: in summary reports, it will resort the rows based on value of the amount using biggest amount on the top
QBO Collapse: collapses summary reports using QBO's build-in collapse which completely hides all row sub-categories
Cash-basis: modify the report formatting to load in cash-basis even when the default setting for QBO is setup to Accrual
Preset Date: modify the report date rage to this date
Preset Footnote: modify the report to automatically add the predetermined footnote
Preset P&L Compare PP with %: If you are looking at a Profit and Loss report, it will automatically show a comparative column with the percentage change comparison
Preset BS Compare PP with $: If you are looking at a Balance Sheet report, it will automatically show a comparative column with the dollar/amount change comparison
Preset Details Credit & Debits: if you drill down into a detailed report, it will show debit and credit column and hide amount
Register PRO
Delete & Unreconcile Shortcuts: ability to use CTRL SHIFT \ and CTRL SHIFT U to quickly mark a transaction unreconconciled or to delete it from the register, skipping all warning messages
Batch Delete & Unreconcile : a batching mechanism (with SHIFT CLICK capabilities) to select various transactions in the register and delete or mark unreconciled with a single click
Default Year Autofill in Register: allows you to change the autofill year when typing a date field in the register, essentially changing the default "current year" autofill.

Journal Entry PRO
Journal Balance Visual: feature where an unbalanced journal entry will show the amount its un balanced by under the total debit or total credit amount in red.
Copy Excel to Journal: gives users a "copy/paste" experience for bringing data from spreadsheets into a QBO Journal Entry

Reconcile Tools PRO
An +Expense Button (that contains a +Check, +Deposit,+Sales Receipt, and +Journal Entry sub-options) that allows you to quickly create a missing transaction being created from within the bank reconciliation screen and opens on same TAB. Menu is also accessible via CTRL SHIFT E
Bonus: it automatically selects contextually the account you were in for all transactions except Journal Entries
Export to CSV: exports current reconciliation into CSV including the checkmarks

Deposit Tools PRO
Deposit Tools: adds a button "Show/Hide Undeposited Funds" while in the Deposit screen which is useful whenever there are a lot of transactions, saves time to scroll down to the table where you enter new deposit information when recording a deposit that does not contain an undeposited funds transaction
Open Transactions in New Tab: whenever you click on any transaction in undeposited funds list while in the deposit screen, it opens them in a new tab